Jüri Kaarma's archive offers a journey through the recent history of graphic design
8.9.2022
Exhibition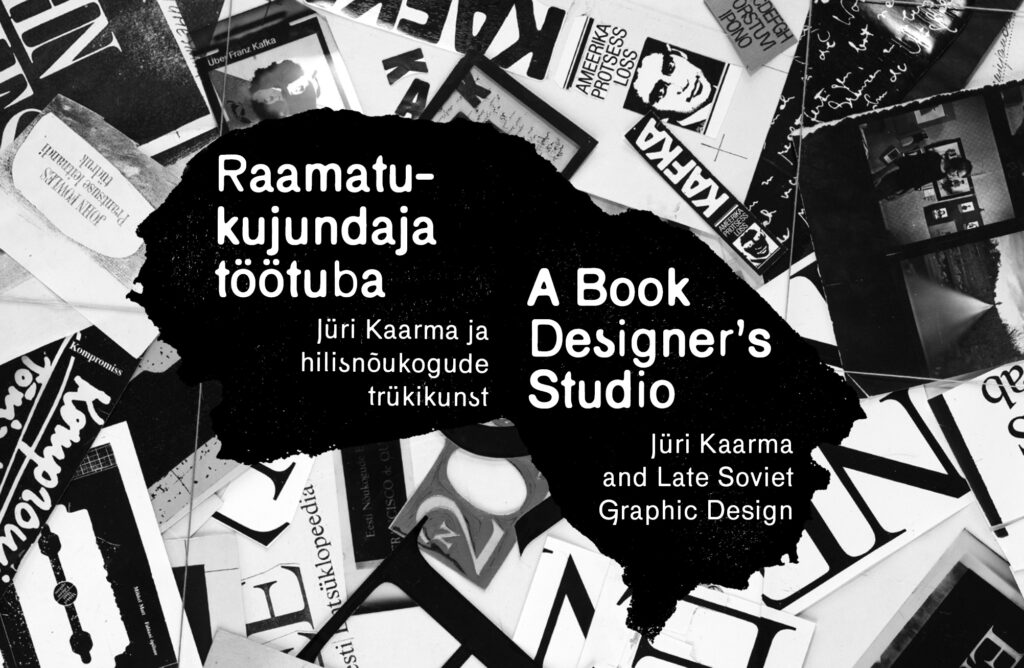 The exhibition "A Book Designer's Studio. Jüri Kaarma and Late Soviet Graphic Design", set to open in the Staircase Gallery at the Estonian Museum of Applied Art and Design on 17 September, will offer a glimpse into the material reality of graphic design history, which has by now mostly been forgotten.
"Nowadays, graphic design is with us at every turn, and everyone is a graphic designer. Taking and editing photos, selecting fonts and colours, making collages, designing and printing used to be exclusive pursuits, requiring time, special skills and collective effort. With the digital revolution, they have become routine procedures for anyone with a computer," the curator of the exhibition, Maria Muuk, explains. 
However, only a few decades ago, even the simplest design techniques could mean spending several hours in a darkroom, carrying out microscopic cut-and-paste procedures, making calls and sending letters to the publishing and printing house, working with 300°C molten metal, going through numerous trial proofs and wasting large amounts of materials. 
"Yet young designers and users of digital design tools are no longer aware of this recent history, and there have not been many research or preservation efforts, especially in the Soviet context," Muuk notes. "The exhibition takes the first steps in rediscovering, understanding and rethinking this heritage in current terms, in an effort to acknowledge the achievements of design history – or rather, to recognise as such even the most ordinary prints and designs born out of highly collective efforts."
The creators of the exhibition, Maria Muuk, Anna Kaarma, Aadam Kaarma and Eve Kask, based the project on the strikingly comprehensive processual archive preserved in Jüri Kaarma's (1950–2011) apartment studio in Lasnamäe, Tallinn. Jüri Kaarma is known for designing the literary journal Vikerkaar, the Loomingu Raamatukogu series of books and various encyclopedias. His confident late modernist typographic style has shaped thousands of publications since 1974. These designs were born in late night studio sessions, with the help of rubber cement, a scalpel and a photographic enlarger, which Jüri used reversed as a camera. The artefacts featured in the exhibition vividly illustrate the restrictions that existed in the design profession during the late Soviet era and the ingenuity born from them.  
At a time when many of our digitally native generation are scouting for alternatives to automated tools and standards, diving into the technological history of graphic design feels like a breath of fresh air. The exhibition poses the question: What kinds of results could experimentation with historical design tools lead to today? These photo processing and printing tools, which were previously perceived as shortcomings, are re-evaluated by interventions from typeface designer Aimur Takk and publishing duo Knock! Knock! Books. The exhibition is accompanied by a comprehensive guide-catalogue with a design that combines the principles of phototypesetting with contemporary digital technologies.
The exhibition will remain open until 13 November 2022.
It comes with a diverse audience programme:
On 17 September, from 13 to 14, Maria Muuk will be giving a curator's tour of the exhibition.
On 22 September, starting at 20, the museum will be screening the film Graphic Means: A History of Graphic Design Production (Briar Levit, USA, 2016).
On 15 October, there will be a poster workshop where participants can experiment with designing a culture-themed poster using photographic collage.
In November, there will be a roundtable on the topics of the exhibition. The date will soon be confirmed.
Creators of the exhibition: Maria Muuk, Anna Kaarma, Aadam Kaarma, Eve Kask
Catalogue and contents: Maria Muuk
Graphic design: Anna Kaarma 
Exhibition layout: Aadam Kaarma
Adviser: Eve Kask
Typeface design: Aimur Takk
In addition to historical artefacts, the exhibition will feature the Würfel typeface currently developed by Aimur Takk and the new short story Kirjavõlglane (Type Debtor) from the publishing and design duo Knock! Knock! Books.