Jaanus Samma explores the relationship between national motifs and power at the new exhibition opening at the Estonian Museum of Applied Art and Design 
19.10.2022
Exhibition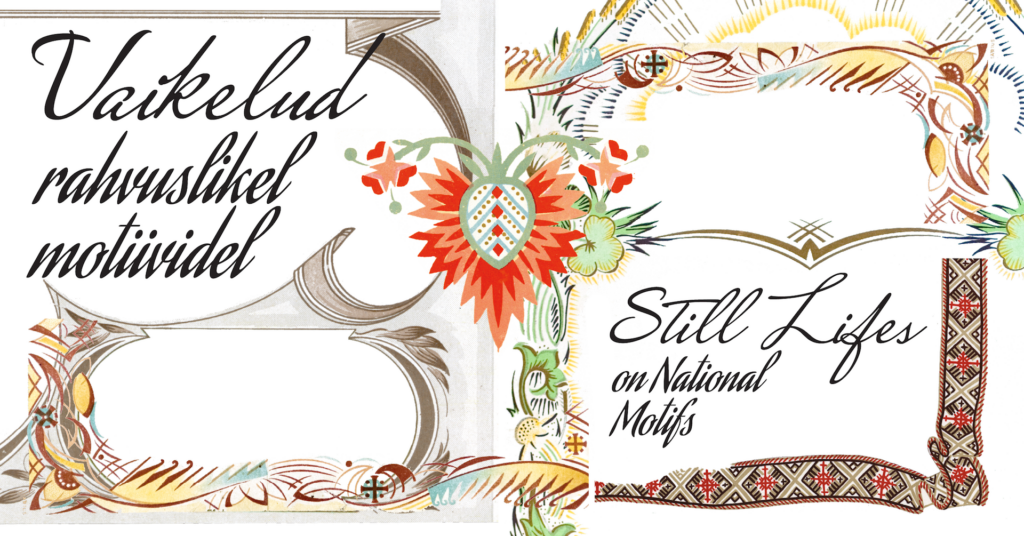 From 22 October the exhibition "Still Lifes on National Motifs", curated by Jaanus Samma is open in the exhibition hall on the ground floor at the Estonian Museum of Applied Art and Design (ETDM), in which Samma explores the use of national patterns and motifs in Estonian applied art and printmaking between the 1930s and the 1950s.
"I have been interested in national symbols, myths and images for a long time – how these have been used and to serve what agendas," says Samma, who found surprising similarities between national patterns of the 1930s and the 1950s, even though a new regime had been installed meanwhile.
Jaanus Samma approached making the exhibition from an artist's perspective and did not follow the same rules as researchers or historians would in the process. "An artist's gaze is particularly valuable here and provides a unique perspective. Historians would look at the construction of a nation from a completely different framework and would exhibit other kinds of original sets of objects," says the director of the museum Kai Lobjakas. "An artist's gaze on this complicated period allows more freedom and highlights interesting finds, while drawing unexpected parallels."
Samma has chosen examples from his personal collection as well as from those of various Estonian museums – objects from the collections of over 20 museums are exhibited. From these, he has created 11 thematic compositions, such as "Rural romance", "The most national item", "Power", "A singing nation". The exhibition displays works by a couple of dozen applied artists and printmakers from the 1930s to the 1950s, which have rarely been connected and shown together. Samma says that as an artist, he has the opportunity to disregard the established periodisation of history and break canons: "These decades are not usually looked at side by side, yet people did move on with their lives."
He adds that as an artist, he has often thought he cannot condemn these artists, as he has never been in a similar situation. At the same time, the research into these works has been fascinating.
Samma has created three new works for the exhibition, looking at the national conservative art canon.
In addition to this and his research and interpretation of historical material, Samma has invited three contemporary Estonian artists Edith Karlson, Anna-Mari Liivrand and Urmas Lüüs to interpret nationalism from their own point of view. 
The accompanying texts contextualising historical compositions have been created in collaboration with the folklorist Andreas Kalkun.
The historical part of the exhibition includes the following artists: Adamson-Eric, Mari Adamson, Aino Alamaa, Jaan Jensen, Ede Kurrel, Helmi Käsukond, Paul Luhtein, Boris Lukats, Jutta Matvei, Lydia Mei, Leida Palu, Adele Reindorff, Maks Roosma, Evald Okas, Lydia Jõõts and others.
In addition to the collections of ETDM, works and objects have been loaned by
the Farm Museum of Carl Robert Jakobson, the Dr. Friedrich Reinhold Kreutzwald Memorial Museum, Estonian History Museum, Museum of the Estonian Academy of Arts, Art Museum of Estonia, Estonian Rural Museums, Estonian Agricultural Museum, Estonian National Museum, Estonian Sports and Olympic Museum, Estonian Theatre and Music Museum, Hiiumaa Museums, Pärnu Museum, Tallinn City Museum, Tartu Art Museum, University of Tartu Museum, Valga Museum and numerous private collectors.
Jaanus Samma (1982) is an artist working in several contemporary art mediums, ranging from printmaking and installation to textiles. Over the years, he has extensively researched themes of gender and nationality. Recently, he has focused on the construction of the idea of nationality and highlighting relevant decisions and choices in the process. Samma worked with this theme in his last solo exhibition "Pattern" at Tartu Art House, which was based on research he conducted in the collections of the Estonian National Museum. With this exhibition, he once again demonstrated his ability to make astute observations, ask pointed questions and recontextualise. 
The exhibition remains open until 2 April 2023.
A guided tour with the artist will take place on 22 October at 12.00. Participation is possible with a museum ticket.
Curator: Jaanus Samma
Consultants: Kai Lobjakas, Andreas Kalkun
Coordinator: Ketli Tiitsar
New artworks: Edith Karlson, Anna-Mari Liivrand, Urmas Lüüs, Jaanus Samma
Exhibition architecture: Neeme Külm; prototyping: Kadri Villand; production: Valge Kuup Studio 
The production of Jaanus Samma's artwork: Sofia Fattahhova, Bruno Kadak, Tormi Kadak, Merike Lond, Juulia Aleksandra Mikson
Graphic design: Brit Pavelson
Sound design: Janek Murd
Exhibition team: Helen Adamson, Kristi Paap, Toomas Übner, Silvia Pärmann, Birgit Tohter
Thank you: Ülle Jäe, Reine Koppel, Maire Kuningas, Erle Nemvalts, Ingrid Helena Pajo, Martin Rünk, Temnikova & Kasela Gallery
The exhibition is supported by the Estonian Cultural Endowment.