Archive
Still Lifes on National Motifs
22.10.2022-02.04.2023
Ground floor hall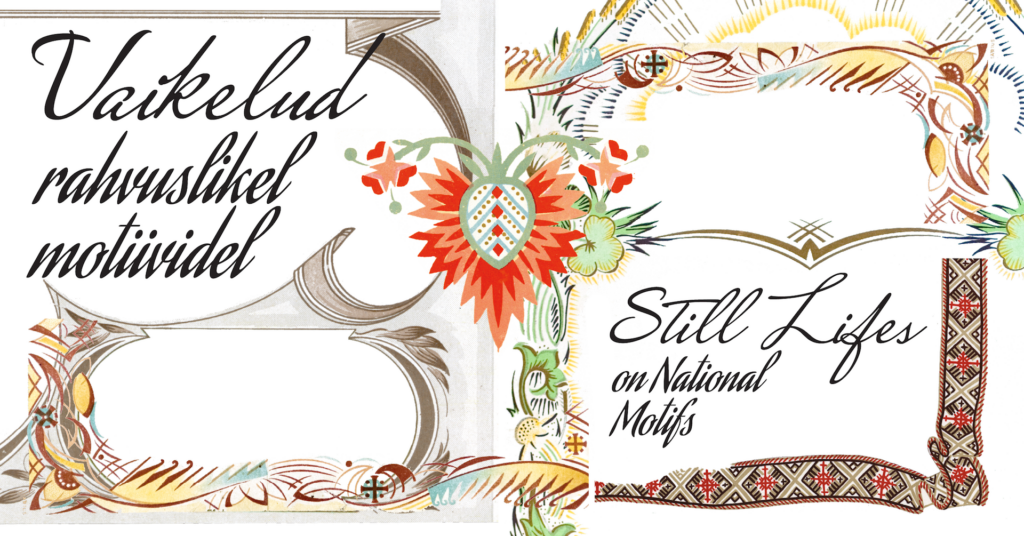 Artist Jaanus Samma has long been interested in how the idea of nationalism is constructed. In this exhibition, he draws on materials from his personal collection and the vaults of Estonian museums to create 12 thematic compositions in which he examines the use of national patterns and motifs in Estonian applied art and prints from the 1930s to the 1950s. Samma is mainly interested in how national iconography is connected to power and how it has shaped Estonians' self-image. For this exhibition, Samma created three new works, which explore the national-conservative art canon and offer possibilities of reappraising it from a present-day viewpoint.
Samma is also the exhibition initiator and personally selected artworks for the compositions. Besides studying and interpreting historical material, he invited three Estonian contemporary artists to join him in pondering these subjects. The new works by Edith Karlson, Anna-Mari Liivrand and Urmas Lüüs all interpret nationalism from their own perspective, giving their commentary on respective thematic compositions and using historical and modern decorative practices to deliver a critique of nationalism, whether as an illusory romantic dream or an officially prescribed mentality of past eras. Accompanying texts written in collaboration with folklorist Andreas Kalkun provide insight into the content of the historical compositions. Overviews of works by guest artists have been written by Rael Artel.
Works by the following artists are among those represented in the historical part of the exhibition: Adamson-Eric, Mari Adamson, Aino Alamaa, Jaan Jensen, Ede Kurrel, Helmi Käsukond, Paul Luhtein, Boris Lukats, Jutta Matvei, Lydia Mei, Leida Palu, Adele Reindorff, Maks Roosma, Evald Okas and Lydia Jõõts.
Works and other items shown at the exhibition have been loaned, in addition to the Estonian Museum of Applied Art and Design, from the collections of the C. R. Jakobson Farm Museum, Dr. Fr. R. Kreutzwald Memorial Museum, Estonian History Museum, Estonian Academy of Arts Museum, Art Museum of Estonia, Estonian Agriculture Museum, Estonian National Museum, Estonian Sports and Olympic Museum, Estonian Theatre and Music Museum, Hiiumaa Museum, Pärnu Museum, Tallinn City Museum, Tartu Art Museum, University of Tartu Museum, and Valga Museum, and by a number of individuals.
Jaanus Samma (1982) works in several contemporary art media ranging from graphic art and installations to textile works and is particularly known for his thorough exploration and reflection of gender and nationality. The construct of nationalism and related decisions and choices have been a hallmark of his recent work in particular. His most recent solo exhibition at Tartu Art House, Pattern, was based on materials analysed and developed for the artist's research project completed in the collection of the Estonian National Museum. That exhibition reaffirmed Samma's ability to be an attentive observer, ask questions and reconsider hoary tropes.
Exhibition conceived by: Jaanus Samma
Consultants: Kai Lobjakas, Andreas Kalkun
Coordinator: Ketli Tiitsar 
Guest artists: Edith Karlson, Anna-Mari Liivrand, Urmas Lüüs
Exhibition architecture Neeme Külm, prototyping Kadri Villand, production Valge Kuup Studio 
Production of Jaanus Samma's works: Sofia Fattahhova, Bruno Kadak, Tormi Kadak, Merike Lond, Juulia Aleksandra Mikson
Graphic design: Brit Pavelson
Soundscape: Janek Murd
Copy-editing: Hille Saluäär (Estonian), Martin Rünk (English)
Translation: Kristopher Rikken
Exhibition team: Helen Adamson, Kristi Paap, Toomas Übner, Silvia Pärmann, Birgit Tohter
Thank you: Ülle Jäe, Reine Koppel, Maire Kuningas, Erle Nemvalts,Ingrid Helena Pajo, Martin Rünk,  Temnikova ja Kasela galerii
The exhibition is supported by the Cultural Endowment of Estonia