Archive
ETDM's new installation Do You Have This at Home? introduces design icons found in Estonian homes
14.04.-10.09. 2023
III korruse saal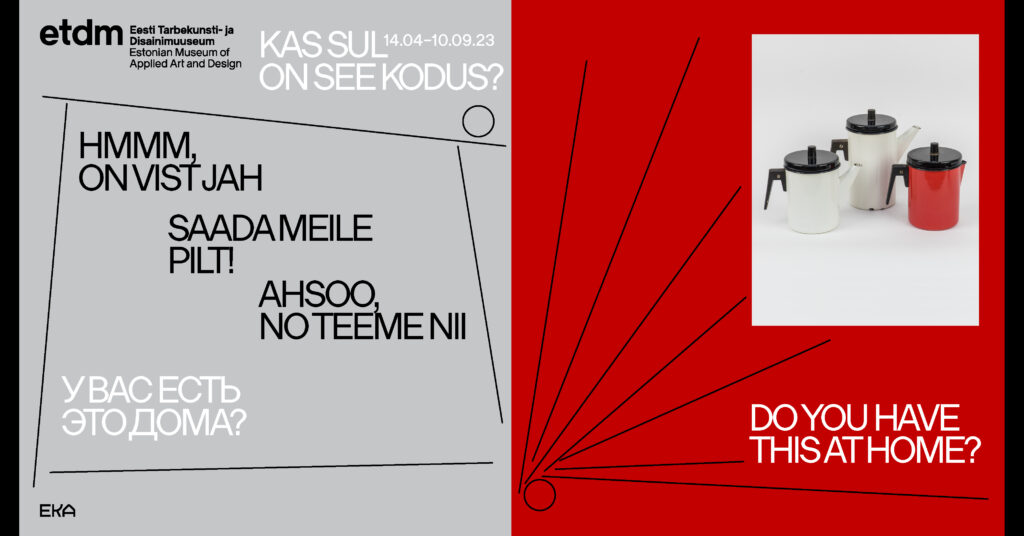 From 14 April, the Estonian Museum of Applied Art and Design's (ETDM) permanent exhibition Introduction to Estonian Design will be featuring the installation project Do You Have This at Home? by students of the Estonian Academy of Arts (EKA). The idea for the project stems from the moments of nostalgic recognition among exhibition visitors, who can often be heard saying "Oh, I have this at home!"
"Our initiative aims to stimulate local historical memory and deepen personal connections with our material culture. The project shows how over time, ordinary household objects can become museum-worthy. Do You Have This at Home? explores the wider context of design objects, encourages people to explore the museum's collections, and facilitates dialogue between different groups who get to communicate their version of cultural history," says EKA student Lilla Lukács.
The project Do You Have This at Home? encourages everyone to participate and share their personal design stories. In collaboration with the museum, EKA students Ksenia Kovalenko, Maivi Kärginen-Kivi, Lilla Lukács, Paula Oberndorfer and Johanna-Elisabeth Tärno (who created the project) asked people to have a look around their homes and document any objects that were made by Estonian designers. 
"It's been like talking to old friends. We are all sharing and collecting life stories and memories of different generations, and this is the most beautiful part of this exciting journey," says EKA student Ksenia Kovalenko.
The students were interested in seeing whether iconic designs are common in Estonian homes. By the time the installation was completed, nearly 40 different items and stories had been submitted, and the students are in contact with several more people who have also shown interest. Out of all the images and stories people have shared, those that are more closely related to the EDTM permanent exhibition or that contribute to it in a unique way will be showcased. However, the museum is thankful for all the thoughts and even the most commonplace objects that people have documented. For example, one photograph shows a simple white jug with fruit on it. Vesta, who had taken the photograph, did not know the designer, and the museum quickly uncovered that the jug had been designed by Mall Valk and manufactured in 1964 at the Tallinn Ceramic Building Materials Factory (TEKT). 
The installation is on display in the project space of the exhibition Introduction to Estonian Design curated by Kai Lobjakas and will remain open until 10 September.
The project is still open to participants! Email a photograph and the story behind the design object in your home to publik@etdm.ee or bring them to the museum's ticket office at 17 Lai Street, Tallinn.
Special thanks to Agnes Aljas, Anu Allas, Rebecca Duclos, Kai Lobjakas, Virve Sarapik
Supervisors: Hanna-Liis Kont and Sandra Nuut
Graphic design: Ott Kagovere
Exhibition design: Ulla Alla
The Estonian Museum of Applied Art and Design (ETDM) has been collecting and contextualising design for the last twenty years. ETDM's collections include nearly 18,000 items, which form the basis for exhibitions, and audience and educational programmes.